Spicy Vegan Ranch 7 Layer Dip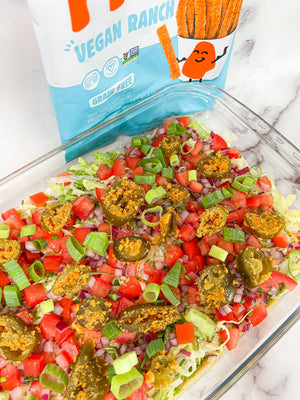 INGREDIENTS
32 ounces refried beans
15.5 ounces chunky salsa
10 ounces guacamole
12 ounces vegan sour cream
4 ounces bag of Spudsy Zesty Ranch Fries
2 cups shredded lettuce
2 cups pico de gallo
1/2 cup sliced green onions
METHOD
Spread the refried beans in a 13x9 pan.
Drain the salsa to remove excess juice.
Spread the salsa over the refried beans, then the guacamole.
Blend Spudsy Zesty Ranch sweet potato fries in a blender to crumble. Set aside in a bowl.
Mix the 1 cup of Spudsy Vegan Ranch crumbs and vegan sour cream together.
Spread over the guacamole.
Then follow with more Spudsy Vegan Ranch cheese crumbs, shredded lettuce, pico de gallo, jalapeños and green onions.
Refrigerate for an hour before serving. Serve with tortilla chips.